21/01/2021
Why the iPhone Aftermarket Screens From China Have Touch Issues?
As one of the iPhone screen and small replacement parts suppliers in China, the iPhone aftermarket screen touch issue is the most common problem customers complained to us about. Well, these iPhone screen problem occurs for many reasons and some of which are repairable. Here Etrade Supply would like to analyze why the iPhone aftermarket screens have touch issues and share with you repair tips on how to avoid these problems in the description below.
Normal iPhone aftermarket screen touch issues are flickering. The newly replaced screen flickering happens because of the loose screen flex cable. Other reasons are flex adaptor or flex ribbon damage. We need to disassemble the iPhone again and check the flex cables. Make sure the flex cables are connected well. Process refers to our YouTube video about China Made iPhone LCD Screen Test. Another iPhone screen touch issue is the unresponsive screen or partly unresponsive screen. This problem is complex. New aftermarket screens unresponsive issues are seldom. Reasons for this problem may be the screen hardware or software. Most unresponsive screens are not repairable. Let's talk about another serious touch problem of iPhone aftermarket screens, ghost touch. When we turn on the iPhone, the screen is jittering and keeps switching on interfaces. This is so-called ghost touch. Technically, this issue cannot be fixed because it relates to the problem of screen manufacture and software data compatibility. As we all know, most aftermarket iPhone screens from China are manufactured in factories of the mainland, while the touch IC, which is the core part of the screen, is supported by leading companies like Samsung or Taiwan Semiconductor. Most aftermarket iPhone screens made in China cannot meet the standard of this touch IC, that's why the touch issue occurred. On the other hand, the iPhone aftermarket screen software is insufficient to computing the larger new iPhone drive IC software volume, that's another reason why the screen has touch issues.
Finally, we should know the reasons why the iPhone aftermarket screens haves such touch issues so that we can avoid these problems. The simple flickering issue can be fixed by checking the flex cables and flex ribbon. As to the problem of the unresponsive screen, we should check the new screen and contact the supplier for after-sale service. Anyway, the QC to products is very important. A great iPhone screen and parts manufacturer in China would work the best on their QC process. Etrade Supply is running the iPhone screen and replacement parts business for 10 years. Here are high-quality iPhone 11 LCD screen and small parts for supply. All our mobile phone parts are 100% tested before stock-in. Come to our store if you need any iPhone parts.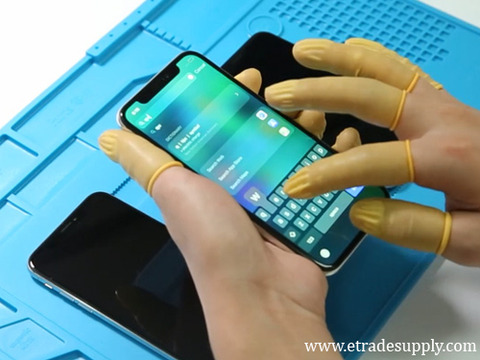 ​