04/04/2018
A hundred miles from Oxford Street
The fashion shopping scene has been virtually transformed over the past ten years or so. If the calendar were put back to 1960 I believe we should be astonished at how dull the shops would seem. The contrast would be greatest in the suburbs and provincial towns, because of the boutiques that have blossomed in the high streets and the multiplying branches of fashion chains. Also, many provincial department stores have changed hands, been modernised, adopted new methods of display, self-service, shops-within-shops, and so on. There are more out-of-London branches of famous London names. Miss Selfridge, for example, now has 18 branches. Fresh fashions come in all the time, not just at the beginning of new seasons.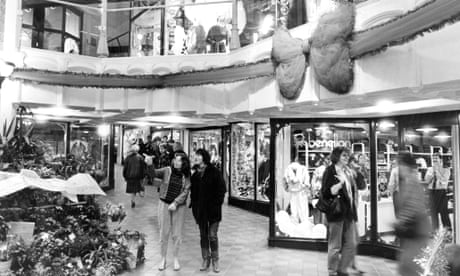 Retail shops dress up to attract customers
Read more
The quickening fashion tempo can also be seen in the small, owner-run dress shops in good neighbourhoods, serving customers who appreciate personal attention and a selection of clothes that have been edited with discrimination. Such shops used to be called Madam shops – but not now. Neither the people who run them, nor the customers today answer to that description. Recently I received a letter from Cheltenham that began "Several months ago I opened my own shop, June Daybell, in Cheltenham's fashionable Promenade. The shop aims to feature handpicked clothes, with an accent on quality at reasonable prices. There is great attention to style, colour and fabric, with a real endeavour to supply clothes which are not generally available outside London. We try to lead the customer forward to new trends."
This last sentence particularly interested me. Mrs Daybell's letter went on to say that in the provinces women attach a lot of importance to the guidance that fashion magazines and newspaper editorials give them. She included a list of her main suppliers and said that if ever we were featuring any clothes by one of them she would be very glad to be mentioned as a stockist. Clearly this was not just another eager amateur enthusing about yet another "totally different" boutique. I felt I would like to meet Mrs Daybell, and this was arranged.
A professional she turned out to be, although looking very young – no one would call her madam. She has been involved with fashion for twelve years, starting with a tough training at Lewis's of Liverpool. She is now 31 years old, works a six day week; at least one day a week in London, and goes to see fashion abroad as often as possible.
The Paris prêt à porter she considers essential..."to get a lead, to catch the fashion message." In the shop at present she has trousers and suits from GET (Gaston Jaunet of Paris); beachwear from Pascal of Nice; sandals and clogs from Paco Rabanne; silk shirts from Franck Olivier; a whole range of children's clothes from Absorba, which she says are expensive but far and away the best in Europe. She has T-shirts from Trinet-Oy of Finland and from Sweden the whole collection of Hans Metzen, which includes the beautifully relaxed summer trouser suit on this page. English suppliers include Alistair Cowin and Stirling Cooper for separates. Jeff Banks "for their better shirts"; Georgina Linhart's whole collection.
Mrs Daybell believes that basic clothes are coming back after the years of fashion chaos. This suits her fashion philosophy. . . "Fashion must be of use – people want clothes to live in, that will serve them for lots of occasions, according to the life they lead. But they do want to be in fashion." She says that in the provinces they study the fashion magazines and reports in the newspapers, and need guidance when they are actually choosing, appreciate a shop where the clothes are well edited.
A woman should feel happy about her clothes, and Mrs Daybell was suggesting taking a dress on approval, trying it on again at home, seeing what her husband thinks, bringing it back if he hates it.Read more at:cheap prom dresses uk | graduation gowns