30/07/2016
Remembering Prince Charles and Lady Diana's Royal Wedding (and That Dress!) – 35 Years Later
Thirty-five years ago today, a beautiful young woman named Lady Diana Spencer walked down the aisle at St Paul's Cathedral to wed Prince Charles in what was dubbed the "wedding of the century."
The July 29, 1981 ceremony was watched by an estimated global TV audience of 750 million. And a crowd of two million lined the route of Diana's procession from Clarence House to the cathedral to catch a glimpse of the stunning bride.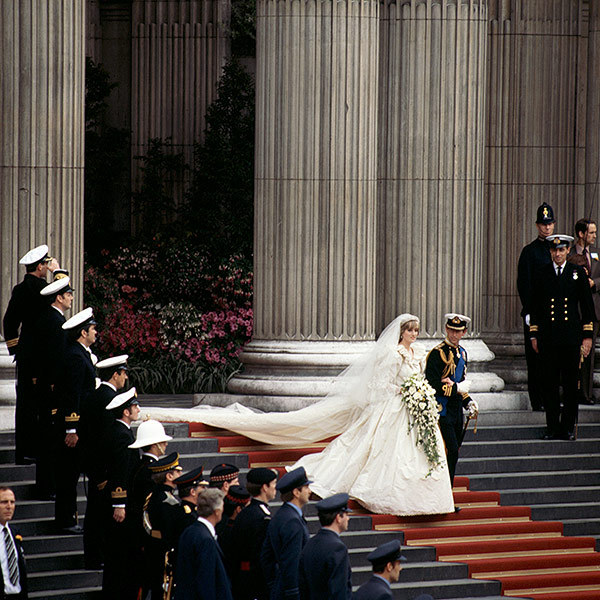 From start to finish, the wedding was every bit the fairy tale. The princess bride arrived to the ceremony in a glass couch, one of the principal horse-drawn carriages of the British monarch built in 1881.
Despite the pomp and circumstance that surrounded the traditional event, the modern bride did make one notable change to the ceremony. Diana did not promise to "obey" Charles as part of the traditional vows. She promised to "love, comfort, honor and keep." The word "obey" was eliminated at the couple's request, which caused a sensation at the time. (Princess Kate followed Diana's lead in her wedding vows to Prince William, in which she also ditched the word "obey.")
It was Diana's wedding prom dress that stole much of the spotlight that day. Valued at $12,000 (equivalent to $41,000 today), the stunning gown, which was designed by Elizabeth and David Emanuel, was made of ivory silk taffeta and embellished with lace, hand embroidery, sequins and 10,000 pearls.
The epic train was made of ivory taffeta and antique lace. (The lace used to trim the dress had belonged to Queen Mary.) She topped her bridal look off with the Spencer family heirloom tiara. Charles looked dashing beside his bride in his full dress naval commander uniform.
Diana's dream occasion dresses set quite the trend. Large puffed sleeves and a full skirt became popular requests among brides around the world.